L'Altrove - Community site
This property has no reviews
---
Pitch for
---
Structure description:
L'Altrove" is an ecological, cohabitation, solidarity and sustainable collective workshop, run by a group of people who live there and are involved in renovation work, the promotion of cultural activities and the management of synergistic gardens. We are located in an ancient village dating back to the 16th century, just outside the town centre, isolated and quiet, but very close to all services (grocery stores, tobacco shops, chemist's...) and to the communication routes between Turin, Asti, Alba, Bra, Cherasco, with all the opportunities for wine, food and cultural tourism offered by the area. The social dimension of our project can also be an added value for our guests in orienting them towards other projects, producers, initiatives oriented towards sustainability, the safeguarding of biodiversity, the promotion of a solidarity and cooperative dimension of living, producing and participating in public life. We welcome solo travellers, friends or groups with one or two children... who will find lots of games and good company!
---
Services
Nel caso in cui alcuni di questi servizi siano a pagamento, il prezzo è indicato sotto l'icona corrispondente al servizio e non è incluso nel totale che pagherai al momento della prenotazione.
Potrai pagare questi servizi successivamente, al momento del check-in.
---
Details for vehicles
Water connection
Elettricità
TV connection
Black water
Generator
Lunghezza massima 5 mt
Terreno in Earth
---
Reviews
This property has no reviews
---
Location on the map
---
Experiences proposed by Anna
No related experiences found
---
Possible activities
---
Things to know
Property rules
Check-in: 07:00
Check out: 21:00
Maximum number of guests per pitch: 5
Minimum stay: 1 d
Maximum stay: 30 d
Cancellation policy
2 giorni
Property rules
Animali ammessi
Consigliato per adulti
Consigliato per bambini da 2 a 12 anni
Consigliato per bambini sotto 2 anni
Consigliato per coppie
Consigliato per persone disabili
Consigliato per famiglie
Consigliato per grouppi di amici
Consigliato per single
Zone d'ombra limitate
Presenza di animali domestici
Un pastore corso abita in apposito recinto adiacente alla casa . È un cane anziano molto tranquillo. Non esce dal recinto.
---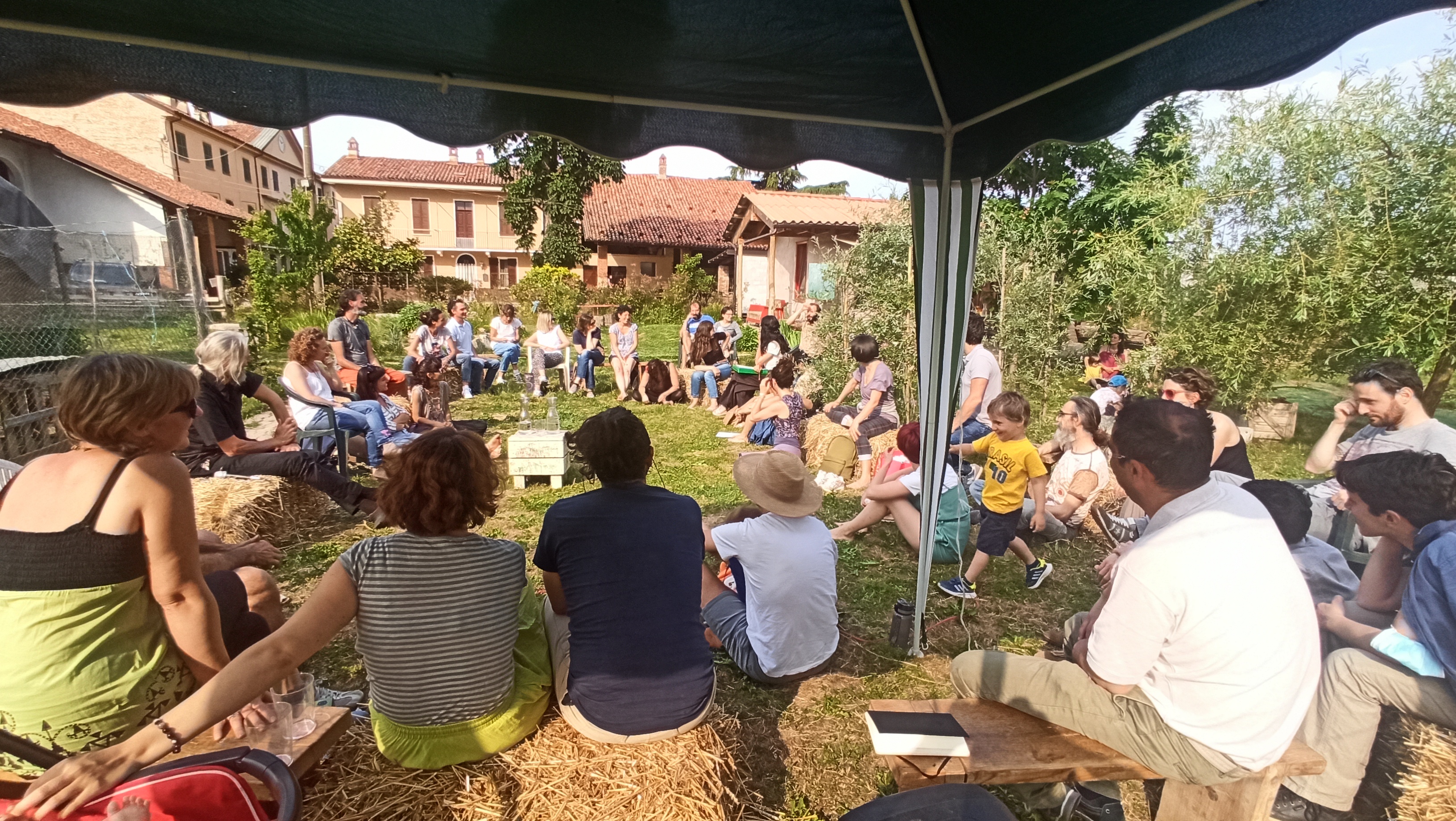 We are a nice family with 3 children of 2,7 and 9 years. We love travel and meet new people and cultures and we have lived some years in Genova, Rome and Haiti. I work for organisational strengthening and communities development, adviser for public and private organizations engaged in innovative social projects, empowering education and participative change processes . In Italy and abroad. My husband works for Slow Food Foundation and he coordinates a very large program of gardens promotion in Africa. We live in Narzole, in the famous area of Langhe and Roero (CN), one of the most interesting of the Piedmont region. Since one year , we and some families are buildin togheter an eco-project L'ALTROVE for co-leaving and co-working with a supportive and convivial style. We are a nice group with a lot of interesting projects and interests (one of theme we are engaged in home schooling experieince) and our eco-project is growing fast. For more information about this, search us on facebook https://www.facebook.com/altrove.conviviale/ Narzole, the village where we live, has 3500 people, is very close to Alba and Bra, and it takes 50 minutes from Turin. Bus service link it with Alba, Bra, Cherasco, Fossano and Ceva. In Fossano and Bra (15 minutes by car o bus) there is the railway station to reach Tourin (and from there all the Italy!) and the beaches (1 our and half by train). There are basic shops, bar and pub, schools and services. We have a garden where you can also help, if you like.